Julia Brooke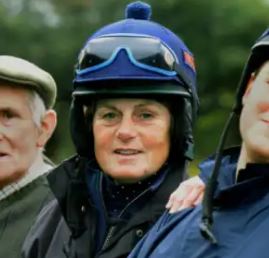 A lifetime's experience of riding
Julia Brooke
Julia's story with horses began at the age of two and throughout her childhood/teen years she was an accomplished show jumper.
Aged 20 her attentions turned to point to pointing and in an age when the sport was still very male-dominated, she gained invaluable experience with Bill Elsey in Malton. Her ability was soon recognised and with Bill's encouragement she took out her Amateurs Licence, riding successfully on the flat.
The years between then and now have been spent training point to point horses, breaking & schooling youngsters, pre-training racehorses and rehabilitating lame / injured horses. All of this invaluable experience culminated in the decision in 2014 to take out a training licence and in the spring of 2015 Julia was successful in her application to become a Licensed Trainer.
Julia has two sons - Henry Brooke, a Professional Jump Jockey (Champion Conditional in 2013) and Danny Brooke. Both play a major part in the success of the yard.